Gnome Plush Sewing Pattern
What's your favourite magical creature when it comes to crafting one? I have a LONG list but recently I've become so obsessed with  DIY Gnome Plush! I mean, how can you not become obsessed with gnomes; with their pointy hats, fluffy beards, and whimsicalness! This is so far my third Gnome craft and I absolutely enjoyed crafting'em! With this DIY Gnome Plush project, you will know how to make a gnome easily. You can even engage your little ones in craft activities and storytelling, and of course spend some creative-quality time together. <3 
These gnomes can be made using hot glue as well but stitching makes this craft more fun and exciting. While you're around, you can check out our other Gnome crafts; Have a look at our Cute Little Gnome Plushies and No-Sew Gnome Dolls.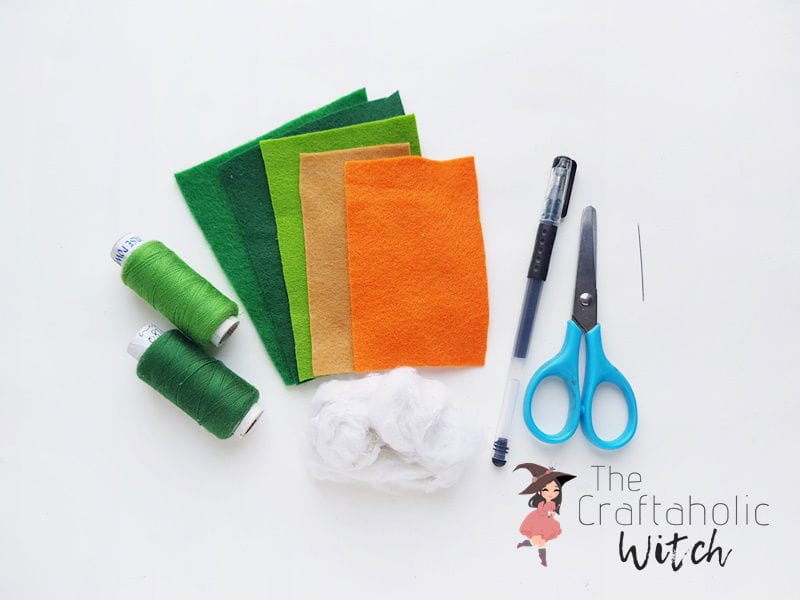 List of Supplies:
Colourful felt fabrics

Matching threads

Needle

Scissors

Cotton

Pencil
Gnome Template
Download and print out this Gnome Template. The template includes 2 hat patterns, 2 clothing patterns, 1 beard, 1 nose, and 6 circles. Cut out the patterns from the template before heading towards how to make a gnome tutorial. 
How to Make a Gnome Tutorial
Step 1: Preparing the Patterns
Let's get started with our DIY Gnome Plush project! Select a colored felt fabric for the hat and another colored felt for the clothing. Select different and contrasting colors for the beard and nose, so that they can be distinguished easily.  Trace the patterns (beard, nose, hat, and clothing) on the selected felt fabrics and cut them out nicely. 
Step 2: Stitching the Hat
Place the hat patterns together and stitch around the 2 sides (left and right). Keep the bottom end of the hat open. 
Step 3: Arranging the Front Parts
Grab any one of the clothing and place the beard pattern on the top side of the clothing. Place the nose near the top end of the beard. Prepare a matching thread (matched with the colour of the nose pattern) with a needle. 
Step 4: Stitching the Front Parts Together
Stitch around the nose pattern and also making sure to stitch all 3 patterns (nose, beard, and clothing) while stitching. Grab the other pattern for the clothing. 
Step 5: Stitching the Front and Back Clothing
Place the other clothing pattern under the stitched one and start to stitch around the side from either the left or right side. Keep the top end of the clothing open for stuffing. 
Step 6: Stuffing the Felt Gnome
Use cotton to stuff the felt ha and the felt gnome pattern. Stuff enough cotton until the plush looks nice and fluffy. 
Step 7: Joining the Hat
Insert the hat through the top end of the felt gnome pattern. Overlap about a cm of the hat along the top end of the felt gnome.
Last Step: Finishing Touches!
You can either use hot glue to attach the hat with the felt gnome or you can also use needle and thread to stitch them together. I've cut out some small circles and attached them on the hat to give the plush a fun pattern. 
And done! Mix and match different colored felt fabrics for more variation! 
---
Don't forget to share a picture with us if you craft one! We'd love to see your version of this Gnome Plush (You can share your picture with hashtag #craftaholicwitch or just DM your picture to us on Instagram.
Happy Crafting!